150 Ankara Short Gown Styles 2020 Designs
1. Flare Sleeve Mini Ankara Gown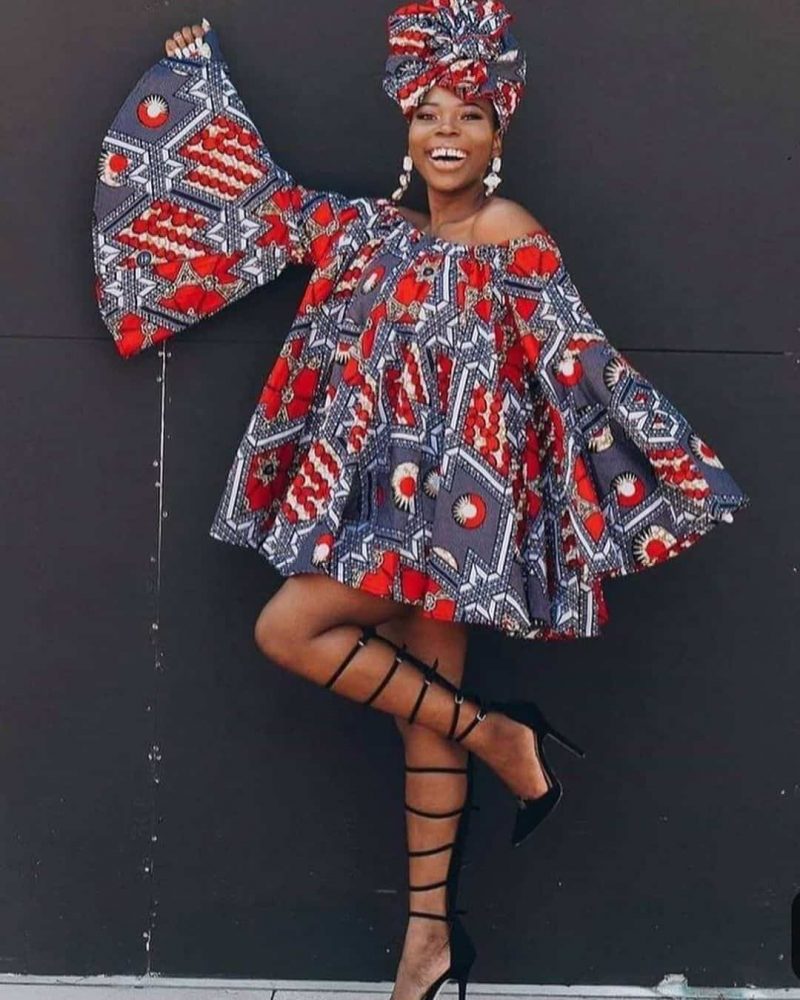 This is another off-shoulder flare goodness, just in case you are looking for a thanksgiving look to the church, this is your go-to gown and don't also forget to put on your shade of happiness.
2. Spaghetti Strap Short Gown
This is yet another classy thanksgiving look , super stylish and elegant enough to fit in for any other beautiful occasion.
3. Ruffled Sleeve Jacket Gown With Belt
I got to give it to this to style, this is class at its peak . This style gives you that bossy chic look that every lady will love to have.
4. Long Sleeve Penciled Gown
This simple but stylish outfit is a must-have for every lady.
5. Ankara Kimono Short Gown
This simple Ankara kimono gown can be switched up stylishly with a pair of sneakers and a crossbody bag to bring out the chic part of the outfit.
6. Offshoulder Onesided Layers Gown
Style is definitely more than what we wear but also the accessories we march it with matters a lot. This outfit can be anything you want it to be depending on how you style it.
7. Long Puffsleeve Pencil Wrap Gown
Show up looking elegantly beautiful in this simple stylish wrap gown.
8. Bell Sleeve Joined Kimono with A-line Ankara Gown
This a very adorable and beautiful style.
9. Simple A-line Gown
Simple classy and also very elegant.
10. Mini A-line Flare Sleeve Gown
This is yet another mini shade of awesomeness.
11. Three-Step Sleeve Mini Gown
I love the fact that this Ankara is a bit simple but the sleeve gave it some fitness and also the way she styled it with her heels added some class to it.
12. One-sided Offshoulder Flare Gown with Belt
This is another thanksgiving worthy look, very simple classy and churchy.
13. Simple Three-Step Flare Gown
Who says looking simple is not fashionable enough, you can look simple and still slay in this mini three layers gown , it is just the right amount of dose you need to slay.
14. Shoulder cut Mini Ball Gown
Look simple and hot at the same time in this mini flare goodness.
15. Bishopneck Shouldercut A-line Gown
Beautiful shade of a simple elegant A-line gown.
16. Offshoulder Smoked Penciled Gown
Simple off-shoulder goodness for a beautiful wedding outing.
17. Casual Ankara Mini Gown
This is how you step out looking casual and chic all at the same time.
18. Shoulder Cut Tiny Strap Short Gown
I love the beautiful stylish cut at the edge of this dress it's just simply amazing.
19. raglan sleeve penciled plitted Edges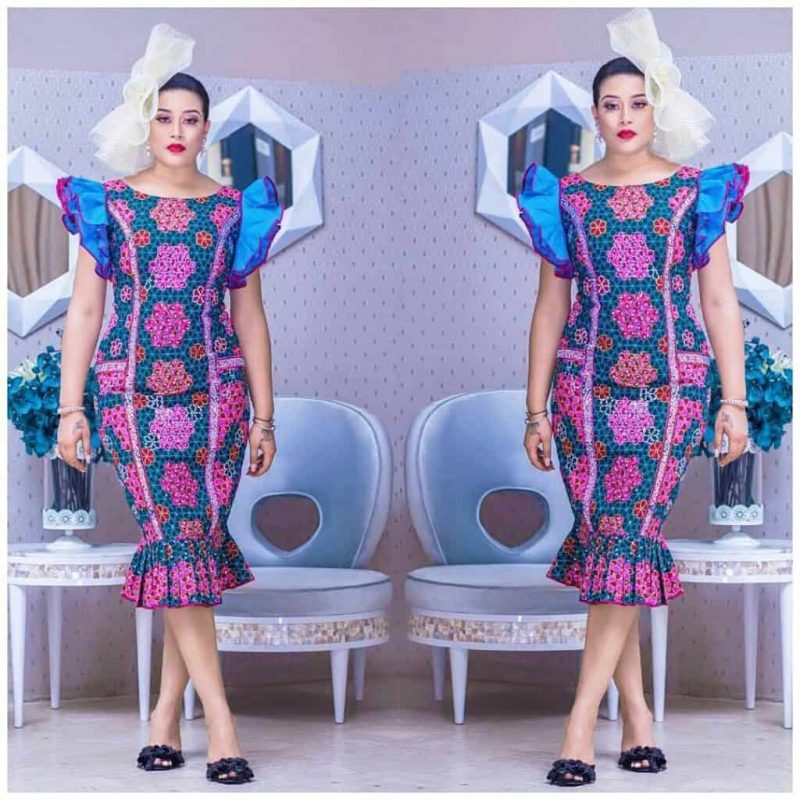 Short Ankara gown styles are going places I hope we are ready for it because we haven't seen anything yet. The ever-gorgeous Adunni Ade sure knows how to give us hot in Ankara styles.
20. Mini Wrap Puffsleeve Ankara Gown
I love the fact that it is a wrap gown with a puff sleeve it is not very common because we feel it is too simple but this nothing less than beautiful.
21. Offshoulder Puff Sleeve Gown
This off-shoulder goodness is fit for all kinds of occasions very comfortable and elegant also very easy tailors to get a hang of it.
22. Mini Laced Edges Gown
Mini but yummy, this is a classy outfit that works perfectly for weddings, and also very easy and convenient at the same time.
23. Offshoulder Flare Gown
Simplicity is key, the simplicity of this amazing flare gown is everything, it can be worn to a casual get together with a pair of sneakers also easy for your tailor to get a hang of it.
24. Spaghetti Strapped two-stepped Gown
This a beautiful wedding-worthy Ankara gown, the style coupled with nice hair and a pair of nice heels will do justice to it perfectly it can also be swapped by using a headgear.
25. Simple plitted edges
This is another casual yet classy outfit suitable for work on a Friday and other casual outings.
26. Bell sleeve Mini Gown
This is another work worthy Ankara outfit, also good to go for wedding parties not too simple and also not extra.
27. One-sided shoulder cut Aline Gown
This is how you show up to a wedding without making noise but you make a statement instead, her black pair of heels is great but you can always spice yours up with something even better.
28. One-sided plits patterned Gown
Looking perfect for a wedding doesn't call for stress but knowing the right style is what exhausts us, but this above style right here is a go-to dress for weddings.
29. Laced up pencil Gown
This amazing Ankara style coupled with gele would do justice to anyone who rocks it, don't get me wrong this is nice but it can be better.
30. Simple Ankara Gown
Another work worthy look for Fridays, simple elegant but most importantly classy.
31. Bell Sleeve Penciled Gown
Most of us think bell sleeves Ankara gowns are common but unfortunately yes they are, but how you style yours makes it unique and better than others.
32. Three layers Ankara Gown
Be a boss not by talking but also let your outfit speak for you, because they always say dress as you want to be adressed.
33. Simple Vneck penciled Gown
Another mini yet classy penciled gown that can be easily tailored by designers without so much stress.
34. Simple Mini splitted Gown
Don't look too far for that casual or evening get together with friends kind of dress this is just the perfect one for it,u can either rock with heels to make it come out classy or with a pair of sneakers to make you look all chic.
35. Mini Ruffled Ankara Gown
This mini ruffled Ankara gown is a crowd controller, this is exactly how you step into a wedding and make a statement even without saying a word.
36. Short Flare Gown With Belt
Short flare gowns can be rocked by anyone easily but adding a belt to it will make it stand out perfect from other types and also depend on whether you want to rock it with heels or sneakers.
37. Shoulder Cut Penciled Gown
This shoulder cut penciled gown should be a must-have for every classy lady because they are easy to wear and can be worn to any occasion.
38. Mini Low Vneck Flare Sleeve Gown
Elegant, simple, unique and classy all in one mini gown, it can be adorned also by a nice pair of sneakers for an after-party.
39. Outerneck Openback Penciled Gown
This is another adorable shade of goodness that can be rocked perfectly to a wedding without having to think whether one is overdressed or too simple because it is just perfect.
40. Simple Longsleeve Penciled Gown
If you are a boss and you are wondering how you should up at a business meeting without having through the struggles of suits and English wear then is your go-to gown.
41. Mini Gown With Bell Sleeves
You did never find a style like that bored, easily transforms the wearer to beautiful and sophisticated and your tailor should not take forever to recreate a style like this for you, you can spice it up with a strip sleeve for a more bold look.
42. Alter Neck Flare Gown
Sometimes all you need to turn up at an event is a simple elegant gown just like the one above, nothing too dramatic with enough sauce to slay with.
43. A-line Gown
An A-line gown deserves more attention than it's getting, we think you can slay just as much with a ball gown as you can with an A-line gown, all you need is the right makeup and heels to match.
44. Simple Mini Gown
A casual evening date requires a casual evening style like the one portrayed above, add your sneakers or heel to it and you are good to go and also it gives your tailor very little to do or complain about.
45. Bishop Neck Gown With Belt
Elaborate or casual, a bishop neck style is also suitable, very comfortable too and you can easily hit the dance floor at a party without worrying about the length of your sleeve, more designs can be added to this style if you have a good tailor working on it.
46. Button Up Gown With Long Sleeves And Belted Cape
Everyone's taste in short gown styles differs but a design like that is guaranteed to be loved by all, this style is also referred to as the butterfly style, classy and interesting. A truly adorable style for all kinds of events.
47. Micro Shirt Dress Ankara Gown
Something about micro gowns is the fact that they look exotic on whoever wears it regardless of shape and height, the style above is classy and conservative enough for formal occasion and Informal ones as well.
48. Stylish Ankara Gown Style With Free Layers And Rubber Sleeves
Simple can be stylish and stylish in turn can be gorgeous and that is how we describe the style above, very easy to wear and hit the dance floor with.
49. Wrap Flare Gown
Conservatives gown styles are not that had to come by, this is one suitable style if you like short gowns but want them to be elegant and decent, you should definitely give this style a chance in your closet.
50. Off Shoulder Flare Sleeve With Double Layer Gown
Flare gowns can come in a different unique design and this one above is one of the ways you can have your flare gowns made, short, elegant and beautiful.
51. Short Slit Gown With Net Sleeves
Part of being a fashion chic is to know how to incorporate different designs into your choose styles, the sleeves are the new trendy ways to rock your Ankara gown and we love it.
52. Ankara Formal Collar Dress
What perfect way to appear at the office wearing a gorgeous style like that, it's just what you need to get jaws dropping at the office on a Friday.
53. Short-Sleeve Ankara With Folds
Another beautiful style for casual and elaborate outings, this is one style we believed could add some spring to your steps and having your strutting with confidence.
54. Raglan Sleeve With Short Pencilled Gown
All you need to rock a style like that is a pair of studded heels and you are good to go for practically any occasion.
55. Flay Beach Ankara Dress
Elegant and party worth us just how we see this simple Ankara gown, perfect for a time alone beach outing.
56. Short Ankara Gown With Skirt Wrap
Very casual and sexy at the same time, the wrap skirt can be added to it differently or sew together, depending on the way you want it to look. It can also be a long wrap gown but short gowns are more interesting and simple to rock.
57. Micro Gown With Dashiki Hand
The dashiki hand makes it look different and adds more class to it, its gown itself might have looked ordinary and also the v-neck looks fabulous with it. What we love most is how radiant and flamboyant it makes the person wearing it look.
58. Mini Short V-necked Gown
Off shoulders are becoming more common and interesting, the Ankara style above can be worn for any occasion, very smart and as for the v-neck you can always swap it for a less revealing neck and the style will still be fashionable.
59. One-Off Shoulder Ankara Gown
Very simple but different and who do not like simple and comfortable. Nothing too dramatic but if you get the right tailor to sew this style, you can add something different to it.
60. Ankara Dress With Front Split
If you like some drama in your dress and you do not mind the split coming up a little, this style is for you, very classy and trendy. This is one of the most beautiful short ankara gown styles you'll find in this list.
61. Short Ankara Shift Dress
The uniqueness is said to be in the sleeves and also the curve hem looks gorgeous for both casual and glamorous occasions. Another thing is the fact that you can pair it with any footwear of your choice, not so picky, comfortable and simple as well.
62. Off Shoulder With Body Wrap Dress
East to become the focus of attention with this sexy gown, really immaculate and with those frillies added to the edge, makes it look even more classy.
63. Ankara Sun Dress
Fashionable and simple for all outing you have in mind, even serves as a nice style to dorn to the beach this weekend.
64. Short Kente Ankara Gown
Ankara styles do not have to be dramatic before they can be beautiful, you just need something simple yet fabulous and that will be the design above.
65. Ankara Special Dress With Butterfly Frontline
For a fashion icon and lover of Ankara styles, you will find this style very easy to pull off and who doesn't like a nice front-line style.
66. Straps With Flay Short Gown
Classic and unique and with the head wrap, it just gives fashion another meaning and style. Really perfect for all occasions.
67. Stylish Short Gown With Neck Tie
We can't help but admire the simple necktie made the style looks so artistic and beautiful, has a tube top as well but the more interesting one is the necktie down to the waistline.
68. Ankara Short Gown With Short And Long Sleeves
Frankly, we think the strap hands even adds a sense of appeal to it, looks simple but absolutely fabulous.
69. Freehand Mini Ankara Gown
If you like it skimpy but amazingly cute, this design is the perfect outfit for you.
70. Off Shoulder Short Gown
This style will not be going out of trend anytime soon, not because it's simple and beautiful but you can actually create a different pattern with it but still the same style.
71. Flay Short Gown With Choker Neck
With or without the belt, it still looks beautiful and perfect for any outing, created to suit all designers and fashion models alike.
72. Short Gown With Collar
This is one outfit we don't need to say much comment on, as the beauty and class are more than obvious, really fashionable.
73. Ankara Gown With Button Up Collar
Stylish and very presentable as well, perfect for all who like it bold and sweet.
74. Bubbly Ankara Short Gown
Spark up your 2019 short Ankara collection with this simple but fascinating bubbly gown.
75. Front Split Short Ankara Gown
Do you have a fondness for a front split? Then you should try rock this.
76. Blazer Shirt Ankara Gown
Get it all together in this blazer Ankara gown.
77. Two Tiny Hands With Flay
You might want to spice up your Ankara with not one but two tiny hands.
78. Simple One Hand Cutting Net
When you speak of elegant, you can relate it to this amazing straight yet fabulous short gown.
79. Simple And Chic Short Gown
Classy and very intriguing, this should definitely give you the inspiration you are looking for.
80. Tonto Dikeh's Short Blue Gown With Big Bow tie
She's a king! That makes rocking this simple short gown effortlessly easy for her. This simple style is suitable for any and almost all occasions.
81. 2-Fabrics Simple Short Ankara Gown
We love simple short gowns like these.
82. Ultra Simple 2 Layers Short Cute Gown
Think you could wear it like Nneze? Or better?
83. Simple Net Infused Gown
This is one of the cutest Ankara based short gown in this post. Dorcas ❤
84. Shweshwe Mini Infinity Dress
This dress by @richfactory is everything. The color, the muse, the way it's made.
85. The Therese Dress
This is one of grass field's latest and finest dresses. This short gown is available on sale via @Grass_field's Instagram BTW!
86. Simple Flay Off-shoulder Gown
Flay lovers with a thing for off-shoulders would definitely like this one. It's simply elegant and she wears it well.
87. Nikikay_couture SS19 YOUNG 'n' BOUGIE Gown
This one is for the elegant lady who loves simplicity and lives by it but is not too afraid to go after what she wants. She is bad and bougie.
88. Sophie Off Shoulder Dress
The Sophie off shoulder dress is one to have in your archive. It oozes class and a perfect fit especially for the thin, long legs chic.
89. Off Shoulder Dress With Double Flared Sleeve
Belt or no belt, this short gown from Nana Akua Serwaa Bediako rocks. Simple and classy.
90. Beautiful Yellow Ankara
If you are a lover of skimpy then this beautiful Ankara is for you, trendy and in class
91. One Shoulder Ankara Gown
This one-shoulder gown just needs your heels or if you desire flats and you are good to go.
92. Short Simple Agbada Gown
This is perfect for all occasions. sneakers even compliment it.
93. Trendy V-Necked Ankara
This fashion trendy v-necked Ankara is worth adding to your Ankara collections.
94. Classy Short Ankara Gown
This is just perfect for any owambe you have made plans for this coming weekend, its got class and no fashionista should pass the chance to rock this.
95. One Shoulder Sexy Straight Ankara Gown
This can not be ignored, when we talk about stylish, this style got it.
96. Rolake Mini Infinity Styles
Just one dress with multiple styles, available at ofuure.com. Don't you just love the styles?
97. Short Office Ankara Gown
Get your Friday at the office grooving with this short gown and have everyone at the office wondering how you make Ankara look so dashing and simple.
98. Simple Shirt Dress Ankara
Simplicity is the perfect word for this Ankara, bring fashion alive with this shirt Ankara gown.
99. Stunning Flowing Flay Ankara
Ankara just keeps getting better and better, substitute that straight gown for a flay and watch as you rock and flow with it.
100. Long Sleeves Ankara Gown
Most of us Ankara lovers just want something that gives us an edge and calls for comfort if you are one of those then this might just be it
Comments
comments